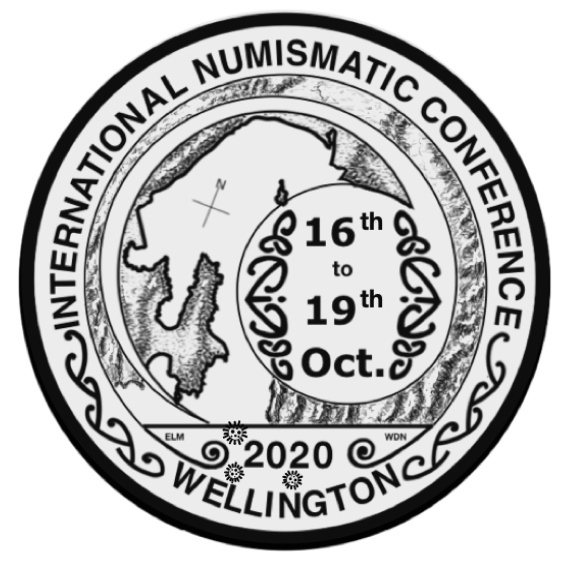 The Society's third international conference will proceed and will be held at 88 The Terrace in central Wellington from Friday 16 October 2020 to Monday 19 October 2020. 
Go to online booking facility.
We were delighted to announce that the Modern Coins Curator at the British Museum, Tom Hockenhull, had agreed to be a keynote speaker and that he would be joined by Owen Linzmayer, publisher of The Banknote Book, from the USA, Christian Hawkesby, Assistant Governor, Economics, Financial Markets and Banking, at the Reserve Bank of New Zealand, and Dr Mark Stocker, returning to New Zealand from the UK to present research on British Decimalisation.
In light of the restrictions likely to still be in place, we now accept that it is unlikely that many of our Northern Hemisphere speakers will be able to join us in person. We expect the conference will offer a mix of live speakers from within New Zealand and remote or recorded presentations from speakers overseas. As at mid-June more than 30 of the original line-up of speakers had confirmed that they would still be presenting.
Those intending to attend who have not yet registered are now encouraged to book without further delay. Registrants may pay at our online booking facility for all events, provided by The Wellington Club.
Go to online booking facility.
A manual registration form can be supplied. Further details can be obtained by contacting: Secretary@RNSNZ.org.nz 
Programme
The format is similar to the Decimal 50 Conference in 2017 in Auckland. Prior booking is essential. Events listed are separately bookable.
Friday 16 October
(Breakfast will be available in the venue if booked)
8.30 am - Registration opens.
9 am – 12 noon - Numismatic tour of Wellington, with viewing of highlights of Te Papa's numismatic collections (held at Tory Street, not in the main building in Cable St); New Zealand's Orders and Medals; and He Tohu, the Treaty of Waitangi display at the National Library. The Reserve Bank Museum will be added if available – this is still to be confirmed.
2pm to 4pm - Closed bourse for conference delegates only. Every delegate can have a free half-table to sell or display items, with more for dealers if available.
5pm to 7 pm - Welcome Cocktail Function (Free) and book launches.
Saturday 17 October
Breakfast (if booked).
10 am to 4 pm - Public Fair
6.30 pm for 7 pm - Conference Dinner with Air Marshall Sir Bruce Ferguson, former head of New Zealand's Defence Forces, as speaker
Sunday 18 October
Breakfast (if booked)
9am – 5 pm - Conference Day 1, separate streams  
Evening free – for possible specialist events or discussions among delegates
Monday 19 October
Breakfast (if booked)
9am – 5 pm - Conference Day 2 - Plenary sessions and closing.
Conference Costs
Thanks to the generous $10,000 support provided by the Alistair Robb Numismatic Fund, administered by the Nikau Foundation, and Conference Sponsors, attendance costs at this conference have been reduced from the levels applying at previous conferences and our initial forecasts.
Costs are NZ$60 for each day for Sunday 18 October and Monday 19 October or $120 for both conference days. The Numismatic tour will cost $10 and the Conference dinner on Saturday 17 October will cost $70.
We are grateful to all our sponsors for their support, including, besides the Nikau Foundation:
John Bertrand (Collectables) Limited; New Zealand Post; Mowbray Collectables (New Zealand) Limited; and Dix Noonan Webb.
Payments may be made through the conference registration page or by arrangement with the RNSNZ through the Secretary, contacts above. The Society can offer Paypal facilities, too. 
Go to online booking facility.
Conference Commemoratives
Conference Overprint banknotes and medallions in sterling silver, bronze and silver coloured brass will be available for purchase to commemorate the conference. A decision to recognise the global impact of the SARS-CoV-2 virus in 2020 by including its image on the conference commemoratives (see design above) has generated excitement among collectors, as this will be one of the first numismatic conferences held since the arrival of the pandemic and one of the first medals to recognise its impact. Prices for the conference commemoratives are:
Overprint Banknote - $60
Medals
Sterling Silver - $130
Silver coloured brass - $30
Bronze coloured brass - $30
The Commemorative Overprint Banknote will be the first $2 overprint produced by the Society and only 84 will be produced. The number of medals being struck has been increased in response to collector interest and 40 will be struck in Sterling silver, while 100 will be in silver-coloured Rhodium-plated brass and 125 will be in green bronze-coloured brass. Speakers will receive a coloured and gold-plated version of the medal.
Speakers
The Conference has a strong line-up of speakers already, with some still to be confirmed, covering the full range of numismatic topics. There  will be a mix of specialist and plenary sessions with streamed sessions offering a choice of topics on modern coins and tokens, ancient coins, banknotes, and medals.
Keynote Speakers include:
Tom Hockenhull (UK), Modern Coins Curator of the British Museum, London, on "Subversive Designs"
Owen Linzmayer (USA), publisher of The Banknote Book, rapidly emerging as the key reference for World Banknotes.
Christian Hawkesby, Assistant Governor, Reserve Bank of New Zealand, speaking on "The Future of Currency"
Professor Brett Delahunt, RNSNZ (NZ), "The Sea Gallantry Medal"
Dr Mark Stocker and Andy Cook (UK), "Decimalisation in Great Britain with comparisons to New Zealand and Australia"
Other speakers include:
Coins and Tokens: Hamish MacMaster, (NZ), "Persian Coins through the Ages"; David Mee AFANS, (NSW), "Crécy, Coinage and Consequences"; Paul Bicknell, RNSNZ "New Zealand's 1940 Half-Crown"; Antony Harris, Head of Coins and Stamps, NZ Post, "NZ Commemorative Coins"; Lois Ion (NZ), "Pukaki" (The Ancestor of the Ngati Whakaue iwi, shown on New Zealand's 20 cents coin); Mike Carter, Queensland, "New Zealand Milk Tokens; Ross Kidd, (Wanganui Numismatic Society), "Wanganui Cosmopolitan Club Tokens"; and Angie Kidd, Wanganui Numismatic Society, "Sovereign Cases".
Ancient Coins: Dr Jeremy Armstrong, Senior Lecturer in Classics and Ancient History, University of Auckland, will join Dr Gwynaeth McIntyre, Senior Lecturer in Classics at Otago University, Dr Hamish Cameron, Lecturer in Classics at Victoria University of Wellington, to speak on the digitisation and use of their collections; Dr Lee Brice, Professor of Ancient History at Western Illinois University, "Minting Silver and Military Activity: The Case of Late Fourth-Century Corinth". They will be joined by Associate Professor Ken Sheedy and Dr Gil Davis from the Australian Centre for Ancient Numismatic Studies at Macquarie University, and graduate students Charlotte Mann, University of Warwick and Macquarie University, Christian Cuello, Macquarie University, and Rachael Mansfield, Macquarie University.
Banknotes: Andrew Clifford, President, Numismatic Society of Auckland, "Giants and Titans of the Bank of England and UK Treasury"; Robert Tonner, (NSW), "New Zealand Banknotes"; Trevor Wilkin, (NSW); Bob Haese (Queensland), "High Grade New Zealand Banknotes"; Robert Pepping, (NZ), "Bank of New Zealand Banknotes".
Medals: Lieutenant General John Pearn (ANS, Queensland) "Healthcare Numismatics: The Most Enduring Record of Medical History" and also "The Numismatic Heritage of Captain James Cook: New Medals As a Witness of Reconciliation"; Christopher Mellor-Hill (Dix Noonan Webb, UK); Marcus Budgen (Spinks, UK); Dr Christopher McCreery MVO (Canada); David Erskine-Hill (UK, Curator of the Lord Ashcroft collection); Tony Jones (UK); Ryan Darby (Australia); Gregor Macaulay (NZ) "New Zealand and the Display of Chivalric Status"; Lt Col John O'Reilly MNZM (NZ), Orders and Medals Research Society Branch of RNSNZ, Wellington.
Go to online booking facility.
Accommodation
Those attending must book their own accommodation in Wellington. We strongly recommend early bookings.
Possible hotels include:
• The West Plaza Hotel, Wakefield St, Wellington (About 10 minutes easy walk away, largely flat and under covered street verandas).
15 double rooms reserved for our conference delegates at $175 per night, available on a first-in-first-served basis for bookings until 16 September only, with $10 breakfast if wanted.) This hotel was our venue in 2014.
Email: reservations@westplaza.co.nz
Phone: 04 473 1440 Ext 249
• The Bolton Hotel, 12 Bolton St, Wellington - 4 minutes-walk away. (5 star)
www.boltonhotel.co.nz
0800 99 6622 (NZ only)
+64 4 472 9966 (International)

• The Park Hotel, Lambton Quay, 1 minute-walk away (4 star).
Ten rooms are reserved for Conference attendees until one month before the conference or until taken up:
Reservations (toll free within NZ):
0800 260 5000 or +64 (4) 260 5000 or
reservations@parkhotel.nz
5 rooms Superior King Studio
Rate nightly: $179.10
1x King bed (Can be split on request)
25sqm. Ensuite and Kitchenette facilities.
5 rooms Executive King Studio
Rate nightly: $224.10
1x King bed (Can be split on request)
28sqm. Ensuite and Kitchenette facilities.
Please mention the RNSNZ conference reservations if booking these hotels.
Wellington also has a good range of other accommodation from budget to 5-star, accessible through sites such as Booking.com, Trip Advisor, Expedia or Trivago, but the city has an active arts and events programme, and this can rapidly deplete the supply of good rooms. To repeat, we strongly recommend early bookings.
Wellington Sights
Apart from the conference, Wellington has a huge range of activities available, including nature reserves, coastal scenery, wine trails, Parliamentary tours, visual and performing arts and museums, such as Te Papa Tongarewa (the National Museum), the Carter Observatory, Wellington Museum, Cable Car Museum, Fragrifert Parfumeur, or galleries, such as the New Zealand Portrait Gallery, New Zealand Academy of Fine Arts and City Gallery. Weather in October sees temperatures typically in the 11 to 16 degrees Celsius range with 11 daily sunshine hours and with a possibility of rain on 50% of days.
Sponsorship
We welcome more sponsors. Sponsors will receive recognition for their support through placement of their logo on Conference publicity, a free advertisement in the Conference programme book, one free package for Conference attendance and one of only twenty $1 banknote overprints being produced for this conference. For more details on sponsorship packages, please contact David Galt, +64 27 0321143 or david@galt.net.nz.
Public Fair, Saturday 17 October2019
Dealers should reserve tables now for the Fair, given that both overseas dealers and New Zealand dealers will be coming. This is the first major public numismatic fair to be held in Wellington City since 2014, with all others having been held elsewhere in the region since that time. Advertising will be through TradeMe, posters, local media and numismatic media. Please contact Flemming Sorensen at flsor@xtra.co.nz or +64(0)4 4785649 to reserve tables.
Finally, thank you again to our sponsors:
Nikau Foundation
John Bertrand (Collectables) Ltd
New Zealand Post
Mowbray Collectables
Dix Noonan Webb